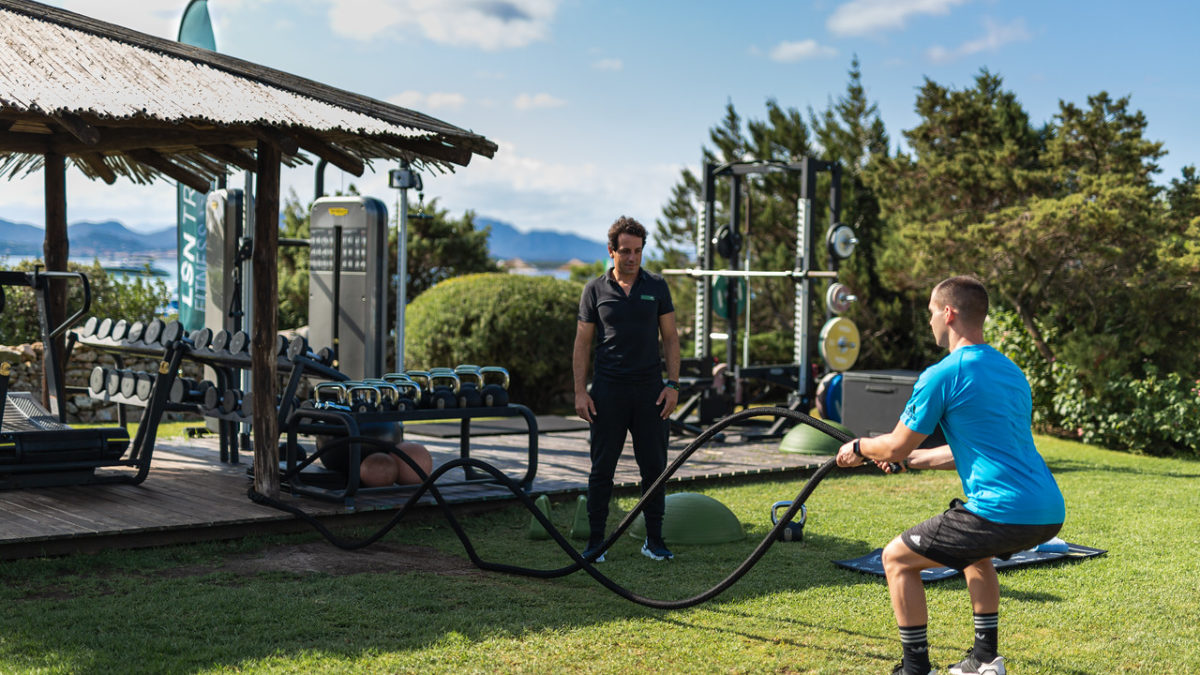 Lsn Gymnasia: Highest quality of wellness
Committed To Positive Change
LSN Gymnasia: who we are and what we do
LSN is a company that provides first quality services for psycho-physical health and consultancy for the planning and construction of luxury spaces dedicated to wellness. Offering a wide variety of indoor and outdoor activities for the body & mind well-being , it brings together dedication to sport and love for nature. The name of the company itself incorporates the values ​​it represents: Love Sport Nature.
Active in various locations in Europe, LSN is particularly present in Emerald Coast, one of the MOST beautiful places on Earth, where in addition to managing the sports centers of the luxury resorts Cala di Volpe, Romazzino, Pitrizza and Porto Cervo, it is also active in providing services in VILLAS, YACHTS and at sea. With its passion for health and wellness, LSN is able to awaken the pleasure of taking care of yourself while having fun and it does so in harmony with the environment in places with breathtaking views of dream landscapes .
Wellness as a lifestyle is the ground for positive change
For LSN, sport and well-being are an integral part of a dynamic, healthy and exciting life. Making you experience the benefits of a lifestyle that integrates all aspects of Wellness during the holidays, when you are in a relaxed and receptive state, is the mission of LSN in the hope of spreading the passion for this optimal lifestyle. Precisely for this reason LSN is committed to supporting educational projects and the creation of spaces dedicated to health and wellness around the world.
The LSN team
LSN collaborators are professionals with very different backgrounds and experiences sharing passion for what they do and the highest level of competence and qualification. In promoting well-being and positive change, they are able to motivate people to go beyond their limits in respect of the different physical conditions and in complete safety. They are honest and responsible professionals able to understand the most varied needs and respond with tailored training and activities. Passion and creativity are the aspects that distinguish LSN professionals and are a guarantee of rewarding and memorable experiences.
Whether it's a swimming or water aerobics lesson, a functional HIIT workout in the seafront gym of Hotel Cala di Volpe, a Pilates lesson in the fully equipped studio of Hotel Romazzino, a Crossfit workout in the iconic gym of Hotel Pitrizza, a circuit along the Pevero Health Trail, a yoga practice in a Zen garden by the pool in a villa in Porto Cervo, a kitesurf lesson in Cala di Volpe, a meditation and sound healing session on the beach at sunset or a passive stretching session, whatever the activity chosen to rely on the exclusive services of LSN, the guarantee is competent, attentive and welcoming assistance.
What to expect when working with LSN Gymnasia?
Working with LSN Gymnasia means experiencing
Assistance of qualified and competent professionals with extensive experience in the wellness sector able to offer tailored programs for the well-being of the body and mind from functional training to crossfit, from postural rehabilitation gymnastics to meditation
Availability and attention of professionals who care about your overall well-being and have the desire to share their knowledge
Support of professionals who motivate you to face and overcome your limits with modulated training programs adapted to your needs and abilities
Activities in beautiful locations, from luxury facilities with state-of-the-art equipment and machinery, to natural sites in enchanting places
Hai già avuto il piacere di collaborare con LSN Gymnasia? Qual è la tua esperienza? Condividila nei commenti.
Did you enjoy the content of this article? Leave a comment and share it on your socials